SING WITH THE CARNIVAL BAND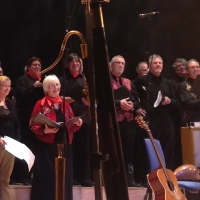 We love performing with our Carnival Choirs and we invite old friends and newcomers to join us for A Carnival of Carols on our December tour.
We've introduced these concerts to give the choirs a chance to shine in the years when we're not touring with Maddy Prior. Instead of singing just a few items, they will be on stage for the whole performance and take a leading role.
Each choir will have a one-day workshop led by Andy Watts in which singers will learn arrangements in four-part harmony from A Tapestry of Carols, Carols and Capers, and the band's extensive repertoire of festive music. You will be able to download sheet music and mp3 files to help you learn your parts, and on the day of the concert there will be a final rehearsal with The Carnival Band.
We have two wonderful venues for the concerts: Shirley Methodist church in Solihull, designed as a dual-purpose church and concert venue with an excellent acoustic; and the historic setting of Huntingdon Hall in Worcester, an 18th century Methodist chapel complete with box pews and choir gallery, now a concert hall.
On-line support – Choir members have access to downloads of sheet music and mp3 sound files to help them prepare for the concert.
The number of places is limited (Worcester 30, Shirley 60) and early application is recommended. We reserve the right to balance the choir by limiting the number of singers on each voice part.
Cost of combined workshop and concert ticket – £45 (under 18s £20). Please note that workshop attendees are required to sing in the concert and must attend the whole of the workshop day. They must attend the whole three-hour rehearsal on the day of the concert.
WHAT IT'S LIKE TO REHEARSE…
CHOOSE YOUR VENUE
Shirley (Solihull)
Workshop: Saturday 18th November 10.00am – 4.00pm
Rehearsal: Saturday 16th December 2.30pm – 5.30pm
Concert: Saturday 16th December 7.00pm
All events take place at Shirley Methodist Church, 257 Stratford Road, B90 3AL
Worcester
Workshop: Sunday 19th November 10.00am – 4.00pm
Rehearsal: Sunday 10th December 11.00am – 2.00pm
Concert: Sunday 10th December 3.00pm – 5.15pm (estimated)
Workshop venue: The Angel Centre, 14 Angel Place, Worcester, WR1 3QN
Morning rehearsal and afternoon concert venue: Huntingdon Hall, Deansway, Worcester, WR1 2ES