SING WITH THE CARNIVAL BAND
IN DECEMBER 2019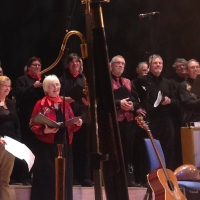 We love performing with our Carnival Choirs and we invite you to join us for A Carnival of Carols on our December tour. There are no auditions and the choirs are open to all. Each choir will have a one-day workshop led by Andy Watts at which singers will learn arrangements in four-part harmony from the band's extensive repertoire of festive music. You will be able to download sheet music and recordings to help you learn your part, and on the day of the concert there will be a final rehearsal with The Carnival Band. This year, the choirs will join us at Heath Street Baptist Church in Hampstead, London and The Cube in Malvern.
As in 2017, Maddy Prior will not be joining us, so the choir will take centre stage and sing about half the items in the concert.
On-line support – Choir members have access to downloads of sheet music and mp3 sound files to help them prepare for the concert. Printed music booklets will be given at the workshop. All materials are included in the price.
The number of places is limited to 40 in each choir so early application is recommended. We reserve the right to balance the choir by limiting the number of singers on each voice part.
Cost of combined workshop and concert ticket – £50 (under 19s £25). Please note, choir members are required to sing in the concert and must attend the whole of the workshop day. They must attend the whole three-hour rehearsal on the day of the concert.
CHOOSE YOUR VENUE
London (Hampstead)
Workshop: Saturday 16th November 10.00am – 4.00pm
Rehearsal: Saturday 14th December 2.30pm – 5.30pm
Concert: Saturday 14th December 7.30 pm to 9.30 pm (estimated finish)
All events take place at Heath Street Baptist Church, 84 Heath Street, Hampstead, London NW3 1DN
BOOKING FOR LONDON CLOSED
Malvern
Workshop: Saturday 30 November 10.00 am to 4.00 pm
Rehearsal: Sunday 22 December 2.30 pm to 5.30 pm
Concert: Sunday 22 December 7.30 pm to 9.30 pm (estimated finish)
All events take place at Malvern Cube, Albert Road North, Great Malvern, WR14 2YF
BOOKING FOR MALVERN CLOSED
WHAT IT'S LIKE TO REHEARSE…