SING WITH MADDY PRIOR & THE CARNIVAL BAND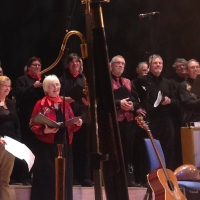 The Carnival Choirs are back! Once again we invite you to take part in a workshop, help yourself to our on-line materials and sing in concert with Maddy and the Carnival Band in a top-class venue with full PA and an adoring audience as part of our Carols and Capers tour.
This year we have 2 exclusive venues: Cadogan Hall in London, and Birmingham Town Hall.
Choir rehearsal aids are now available
OVERVIEW
On-line support. Choir members will be given links to mp3 sound files for each voice part and sheet music from October. Music booklets will be provided at the workshops.
At the workshop Andy Watts will teach all the music for 5 or 6 items which will be included in the concert.
Optional Zoom sessions will be available between the workshop and the concert for anyone who would like some extra help.
On the day of the concert each choir will rehearse with Maddy and The Carnival Band. When not performing, the choir will enjoy the concert from specially reserved seats in the auditorium.
Cost of combined workshop and concert ticket – £60 (under 25s £40). Choir members are required to attend the workshop linked to their concert and to attend the whole of the workshop day. They must be at the venue by 5 pm on the concert day. Workshop only tickets are not available.
Number of places available. There will be between 30 and 50 singers in each choir, and to balance the choir we restrict the number of singers to each part (soprano, alto, tenor, bass). If there are not enough singers to form a choir, a full refund will be given. If a choir is oversubscribed (as in previous years) we keep a waiting list in case of cancellations.
CHOOSE YOUR VENUE AND BOOK
We offer reduced price tickets for under-25s.
The number of places in each choir is limited to 50.
Carnival Choir Covid Precautions

Coronavirus: How to stay safe and help prevent the spread (Easy read)
Birmingham
Workshop:
Saturday 13 November 10.15am – 4.15pm
Shirley Methodist Church, 257 Stratford Road, B90 3AL
The church is 12 minutes drive from the M42 J4.
Shirley Station is an 8 minute bus ride away or a 24 minute walk.
Shirley Methodist church
Concert:
Wednesday 22 December 5.00pm rehearsal for 7.30pm concert
Birmingham Town Hall,Victoria Square, B3 3DQ
B:Music
BOOK FOR BIRMINGHAM (Choir full – waiting list only)
London
Workshop:
Saturday 30 October 10.30am - 5.00pm
St Andrews Church Hall, Downside Bridge Rd, Cobham, KT11 3EJ
The hall is 10 minutes drive from the junction of the M25 with the A3. There are frequent trains from London Waterloo to Cobham & Stoke D'Abernon. The station is 10 minutes by bus from the hall.
www.standrewscobham.org.uk
Concert:
Tuesday 14 December 5.00pm rehearsal for 7.30pm concert
Cadogan Hall, 5 Sloane Terrace, London SW1X 9DQ
www.cadoganhall.com
BOOK FOR LONDON
Optional Zoom sessions for combined choirs
Sopranos: Wednesday 17 November 7.30pm - 9.00 pm
Altos: Thursday 18 November 7.30pm - 9.00 pm
Tenors: Monday 22 November 7.30pm - 9.00 pm
Basses: Tuesday 23 November 7.30pm - 9.00 pm
WHAT IT'S LIKE TO REHEARSE… WHAT IT'S LIKE TO PERFORM…