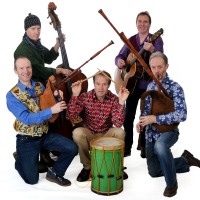 Our programmes
Carnivalesque!
The spirit of Carnival is the same the world over. A feast of dance music and songs from the 16th century to the present day and from a wide variety of musical traditions, embodying the themes of revelry and celebration.
Request full details
---
That Sweet Enemy
A concert vividly illuminating the love-hate relationship between the two great nations of England and France, in love, war, fashion and food for a thousand years. A concert full of joie de vivre with a certain je ne sais quoi!
Request full details
---
Around the World in 80 tunes
A scoreboard, a huge world map, an armful of instruments and a wonderful mix of songs and dance tunes from around the globe. The tension builds right to the very last note – will our heroic band of sonic travellers complete the total?
Request full details
---
Lewd Strumpets and Constant Wives – with singer Vivien Ellis
The broadside ballads were the pop music of the 17th century and in this concert the women take centre stage – female soldiers, cunning tricksters, noble heroines, and girls who know what they want and how to get it!
Request full details
---
Back to About…