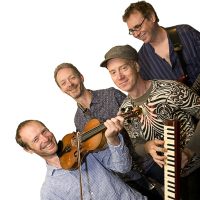 Our programmes
Carnivalesque!
The spirit of Carnival is the same the world over. A feast of dance music and songs from the 16th century to the present day and from a wide variety of musical traditions, embodying the themes of revelry and celebration.
Request full details
---
That Sweet Enemy
A concert vividly illuminating the love-hate relationship between the two great nations of England and France, in love, war, fashion and food for a thousand years. A concert full of joie de vivre with a certain je ne sais quoi!
Request full details
---
Around the World in 80 tunes
A scoreboard, a huge world map, an armful of instruments and a wonderful mix of songs and dance tunes from around the globe. The tension builds right to the very last note – will our heroic band of sonic travellers complete the total?
Request full details
---
Lewd Strumpets and Constant Wives – with singer Vivien Ellis
The broadside ballads were the pop music of the 17th century and in this concert the women take centre stage – female soldiers, cunning tricksters, noble heroines, and girls who know what they want and how to get it!
Request full details
---
Luther 500 The Musical Legacy
A Saturday workshop for singers and instrumentalists exploring the musical heritage of Martin Luther and the Reformation, including West Gallery Music as performed by Maddy Prior and the Carnival Band. Andy will coach participants in a selection of hymns and sacred music from the 16th –19th century to be used in the evening service.
Request full details
---
A Carnival of Carols
Seasonal music from Medieval England to 'le jazz cool' via Latin rhythms and Cajun beats. The Carnival Band blend the spirit of Christmas with the spirit of celebration the world over to create a delicious Yuletide cocktail. With a cornucopia of instruments and rich vocal harmony, the music includes traditional carols such as I Saw Three Ships and The Boar's Head and new compositions by the band ranging from the reflective (Bright Evening Star) to the comic (The Lighthouse Keeper's Christmas). The perfect start to the festive season. Suitable for all ages.
Request full details
---
Carnival Choir Carols Workshop
A one-day workshop led by Andy Watts in which singers will learn arrangements in four-part harmony from A Tapestry of Carols, Carols and Capers, and the band's extensive repertoire of festive music. The choirs will join up with The Carnival Band for the Carnival of Carols concerts in December. To join the choirs or find out more visit our Carnival Choirs page
Request full details
---
Family Concert
A feast of music ranging from the Renaissance to the hand-jive. Participation by young ones is guaranteed, and you will enjoy Latin percussion, the crossing of continents, a kaleidoscope of instrumental and vocal colour, and the bending of many rules! Don't worry if you can't keep still - The Carnival Band will have you out of your seats!​
Request full details
---
Back to About…